What Can You Do With an Outdoor Fire Pit?
posted 2023 Feb by Thad Jones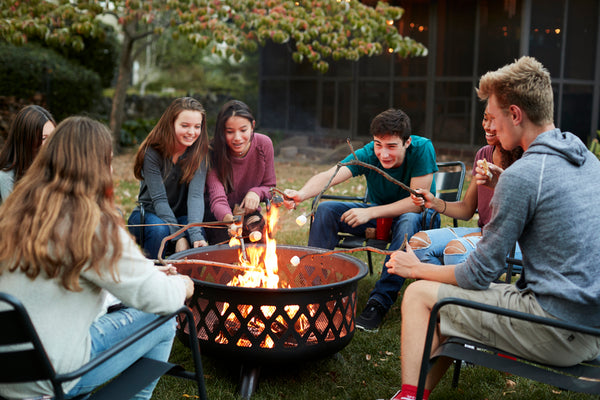 Outdoor fire pits provide warmth and a cozy ambiance, and can be an instant party starter. But they can also create serious health hazards.
To keep things safe, it's essential to invest in a few key fire pit accessories. These are related to safety and can make all the difference in a disaster or a fun evening.
Create Ambiance
With its enchanting glow, an outdoor fire pit creates ambience in any garden. It's the perfect focal point for a late-night party, a night of stargazing, or simply relaxing by yourself with a cup of hot chocolate and marshmallows.
From a traditional stone circle to elaborate masonry and fountain-infused fire features, an outdoor fire pit can enhance any garden design. And a good installer can help you find the right style and material to suit your budget and entertaining needs.
The first step is to choose the size of your fire pit, taking into account how many people will be using it and where you plan to put it. You should also consider the physical footprint of any seating you might want to include.
Next, it's time to set the mood by choosing a color scheme that matches your surroundings. Warmer colors like red and orange promote relaxation, while cool shades like blue and green are energizing. You can also add moody lighting, such as string lights or lanterns.
Cook
Cooking over an outdoor fire pit is a great way to prepare meals for the whole family. Whether you want to grill or roast, there are a few tips to follow to ensure your food cooks evenly.
First of all, it's important to understand what fuel you should use for cooking. Hardwood is a popular choice because it's high-burning and provides a lot of heat quickly.
Another good option is coal. While coals aren't as hot as wood, they provide a similar flame and are perfect for smoking foods.
Before you begin cooking, be sure to clean the fire pit and surrounding area after each use. This will help prevent ash and grease buildup and ensure your food stays fresher longer.
Light Up the Night
A fire pit is a great way to add ambience and warmth to your garden in the evening. It can also be a focal point in your landscape design, which enhances your home's value and curb appeal.
It's easy to find lighting that will complement your fire pit and make it safer for guests at night. One option is copper light sconces that complement the stonework and softly illuminate the area.
Another technique is a few light posts that are anchored in nearby trees or attached to the home. This way, you can add path lighting or other fixtures that create a gorgeous atmosphere and bring drama to the space.
Not only does lighting up the night give you a place to spend time with your family or friends, it can help deter bugs from coming in through your windows and doors. First, the smoke given off by your fire will keep insects away from your seating areas. Second, the flames of your fire can attract insects to the fire itself, and they will stay away from you because they're so close.
Gather the Family
The blazing light of an outdoor fire pit creates a soothing "campfire" ambiance that will bring the family together for fun and relaxation. It's the perfect setting for a cozy evening of s'mores or roasting hot dogs.
The warmth and ambiance of a fire pit makes it the perfect place for family gatherings throughout the year, even as the cold weather sets in. Gather your loved ones around the fire for memorable moments that you can look back on and cherish forever.
Break up the monotony of dinner routines with creative suppers cooked over the fire pit, such as soups and chili. These meals turn the dinner table into something special and memorable for children's sleepovers, date nights and more.
Playing games is another classic family activity that can be enjoyed around a roaring fire. There are plenty of old-fashioned favorites that everyone can enjoy, including board games, card games and dice games.
TITM Products
Of course, the best way to utilize your fire pit is by upgrading it with our special line of TITM Products. Whether you need a fire pit log stand, or a cooking device like the Liddle Skiddle, we've got you covered! Contact us to learn more.