The Best Logs to Use in an Outdoor Fire Pit
posted 2023 Feb by Thad Jones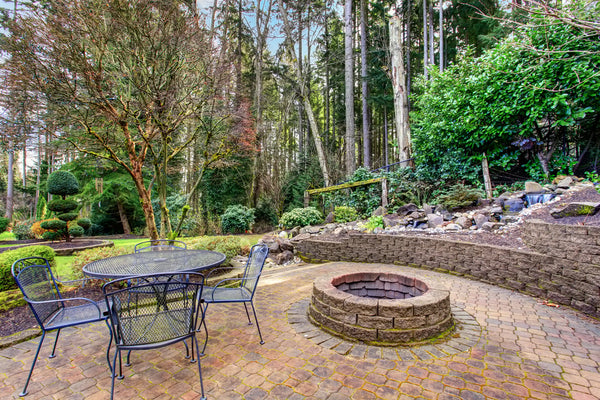 If you want to enjoy a relaxing evening at your fire pit, choosing the right type of wood is essential. This can make a big difference in how long the fire burns, how much heat it produces and how easy it is to maintain after use.
Hardwoods are a better choice than softwoods, such as pines and birch, for fire pits because they burn more evenly and longer. They're also easier to season.
Hardwoods
When it comes to creating a cozy, rustic atmosphere in your backyard or patio, nothing beats the warmth of a crackling fire. If you're considering a wood-burning fireplace, chiminea, or outdoor fire pit, it's important to know what types of logs will provide you with the best burn.
Hardwoods (oak, ash, and hickory) are the preferred choice for many because they produce longer and cleaner-burning flames than softwoods. They also tend to be easier to ignite and less expensive.
However, you'll want to make sure you only use seasoned wood, as unseasoned firewood will trap moisture and sap, which makes it difficult to light and will cause your firepit to emit smoke. You can test the moisture content of a piece of wood using a moisture meter and if it's too high, don't use it.
Softwoods
If you're looking to get a fire going in your outdoor fire pit, there are several different types of wood that you can choose from. However, there are some that work better than others.
Choosing the right logs for your fire pit can make all the difference. The best wood to use will depend on your needs, but typically a mix of hardwoods and softwoods will provide the right amount of heat for a cozy fire.
The first thing you should do is check the moisture content of the wood. If it's above 20%, it will release excess smoke and creosote when burned.
You can test the moisture of any type of log by splitting it in half and prodding one tong into the middle part of it. If the tongs don't come out cleanly, then it's too wet to burn.
Another great option is kiln dried wood, which will usually be below 20% moisture and will require no seasoning. This will guarantee you less smoke and a safe burning experience.
Gas
Fire logs can be made from a variety of materials. Some are made from wax, sawdust, or recycled materials. Others are compressed wood that is dried in a kiln.
These logs have a lower moisture content than natural wood and are more durable. They can also be more realistic looking.
Some of these logs are available in a variety of shapes. For example, some are round and some are square.
They come in different sizes as well. This allows you to create a custom-looking display for your outdoor living area.
Many of these gas logs have a stainless steel burner system. This makes them ideal for use in outdoor fireplaces or fire pits.
You should always purchase logs from a reputable source and make sure that they are dry before using them. This will increase the fire's output and consistency, as well as prolong its life and ease of maintenance.
Other
The type of wood you use in your fire pit will make a big difference to the heat and flames produced. We recommend a mix of hard and medium woods to create the perfect balance.
A good rule of thumb is to plan ahead and buy your logs well in advance. This allows the wood to season, a process that takes about a year or more depending on the species.
You can also purchase kiln dried logs which are usually below 20% moisture content, and have no further seasoning required making them ideal for burning in your fire pit or chiminea.
There are many other types of logs available, including those made from artificial materials like wax and recycled products. These are easier to light than real logs, and offer a clean burn.
TITM Fire Pit Log Stand
The type of wood you use in your fire pit will make a big difference to the heat and flames produced. We recommend a mix of hard and medium woods to create the perfect balance.
Of course, if you want to make starting your next fire easy and simple, we recommend using our TITM Fire Pit Log Stand! It's compatible with all types of fire pits, and helps to lock in heat, resulting in a bigger, hotter, and easier to start fire! Contact us today to learn more!