The Benefits Of A Backyard Fire Pit
posted 2022 Dec by Admin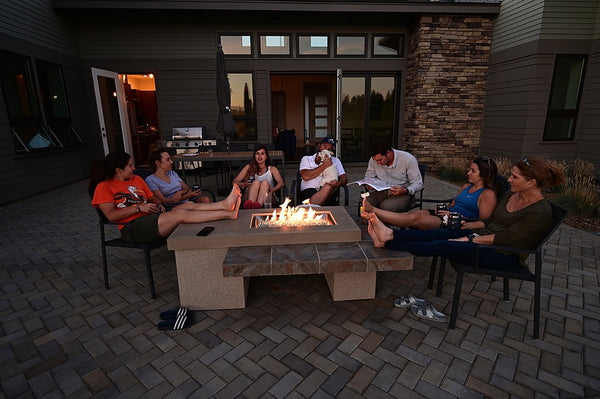 When you're looking to build a backyard fire pit, you want to ensure that you select the right product for the job. A backyard fire pit is not only a good place to spend time with family and friends, it's also a wonderful second kitchen. If you're interested in a propane fire pit, you'll want to read this article
Propane fire pits are portable
If you are looking for an outdoor fire pit that is easy to use and doesn't require a lot of maintenance, consider buying a portable propane fire pit. These are perfect for camping, parties, or anywhere else that requires a fire, but you don't have to worry about getting it set up or burning down.
Portable propane fire pits are an affordable way to add a touch of style to your backyard, patio, or garden. You can choose from a variety of styles, including those with cutout designs, copper, and even steel. Each one features a sleek chrome control switch, adjustable regulator, and carry bag.
The first thing to remember about a portable propane fire pit is that it doesn't produce much heat. However, it can put out a nice, clean flame. Also, these types of fire pits are safe and do not smoke, making them an ideal choice for a number of applications.
Natural gas fire pits are stable
Natural gas fire pits are a great way to make your home look nice and get great value out of it. These are also easy to maintain and are safer than wood fires. Nevertheless, they can be a little costly to install. There are many different models of natural gas fire pits. You can find ones for dining or entertaining, and even portable ones. Many also have automatic turn-off timers to save you from having to remember to turn off the unit.
Typically, the cost of installation for a natural gas fire pit is higher than that of a propane one. This is because a natural gas unit must be installed on a permanent gas line. However, this does mean that you will have an unlimited supply of fuel.
A propane unit, on the other hand, does not need a dedicated gas line. Instead, the unit runs off of a propane tank. To avoid a potential leak, it is best to have a professional handle the installation.
They're a great place to spend quality time with family
A backyard fire pit is one of the best places to relax with family and friends. It's also a fun way to entertain the kids.
There's a reason it's a big hit with homeowners. Fire pits and fireplaces can keep the family entertained and relaxed all year long. They can be constructed from natural materials such as wood or stone. Gas fire pits are available as well.
A fire pit may not be the first thing that pops into your mind when you think of the best way to spend a summer evening, but they can make for some interesting bonding time. With a new fire pit on the horizon, you can have a backyard party that the kids will never forget.
In fact, they can be a great way to showcase your snazzy style. An outdoor fire pit is the perfect setting for a romantic evening on the patio. You can even enjoy a nice glass of wine and take in the beautiful sunset.
Backyard fire pits are great for entertaining guests and spending time with family and friends. In the summer, they can be the perfect spot to roast hotdogs or marshmallows, and in the winter, they provide a warm spot for stargazing. They can also be a cozy place to sip hot beverages or just sit and enjoy the evening.
These fire pits come in a variety of sizes and styles. Some are made of natural stone, and others are built in. If you are interested in purchasing a new fire pit, look for a sturdy base and plenty of cooking space. Also, consider purchasing a smokeless fire pit. This type will eliminate most of the ash and smoke from the flames, which can make your backyard less attractive to neighbors.
A patio fire pit is an excellent way to light your yard and create a romantic atmosphere for a date night. It can also be the centerpiece of your next outdoor party.